From PC World..


1. Intel Core Duo
Notebook/Desktop CPU ($450 and up) Intel's Core Duo provides multitasking power never before possible on a portable PC, and yet it supports astounding battery life for mobile devices. The Core Duo processor is so good that it's the CPU of choice not only for Windows laptops but also for Apple's Windows-capable laptop and for desktop Macs.
In today's mobile world, Core Duo gives Intel a leg up. AMD's Athlon 64 X2 Dual-Core (#2) is astoundingly good, but AMD hasn't yet captured that power in a mobile version; and its notebook processors aren't nearly as potent or as battery-efficient as Intel's.
Review
2. AMD Athlon 64 X2 Dual-Core
Desktop CPU ($300 and up) The most powerful desktop CPU ever made had a dual-core design first. If you need full power for increasingly demanding applications and you're tied to a desk, X2 is for you.
Review

3. Craigslist.org
Web Classifieds (mostly free) Now established in over 200 cities around the globe, this community classified-ad service puts the hurt on newspapers' overpriced classifieds. Sell a used piano or find a soul mate--gratis.
Review
4. Apple iPod Nano
Digital Audio Player ($149 to $249) You get up to 4GB of capacity in a tiny device that nevertheless has room for a crisp color display. It's scratch-prone, but it's still cool.
Review.
5. Seagate 160GB Portable Hard Drive
Portable Hard Drive ($380) This hard drive was one of the first to use perpendicular magnetic recording (PMR) technology to pack more data into the same space. Another PMR-based Seagate hard drive, the Barracuda 7200.10, is the first desktop model to reach 750GB.
Review.

6. Google Earth
Satellite Imagery (free) News channels use Google Earth to zoom in on Iraq; you can use it to focus on neighboring houses, or to explore the rest of the world from your desktop.
Review.
7. Adobe Premiere Elements 2
Video Editor ($100) This strong, stable video editing application costs about one-eighth as much as Premiere Pro, Adobe's professional video editor. And it's so good you may not notice the difference.
Review
.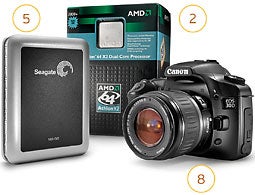 8. Canon EOS 30D
Digital SLR Camera ($1499) An 8.2-megapixel shooter, the EOS 30D makes many of the pro-level features from Canon's EOS 5D available at a friendlier price. It also earned extremely high marks in our image-quality tests.
Review.
9. YouTube.com
Video-Sharing Site (free) Enjoy watching videos of every kind at this massive community of amateur videographers, and upload your own productions--at no cost.
Review.
10. Apple Boot Camp
Mac Dual-Booter (free) Astonishingly, Apple has finally given its blessing to running Windows on a Mac, with this utility. Next up: running the Mac OS on a Windows box--or pigs flying through the sky.
Review.
If you want to read more Visit PCWorld.
http://www.pcworld.com/reviews/article/0,aid,125706,pg,2,00.asp